Course details
【Nabe course】 Sendai specialty chicken paste with a pot 7 items 【120 minutes drinking attachment】 4500 yen → 3000 yen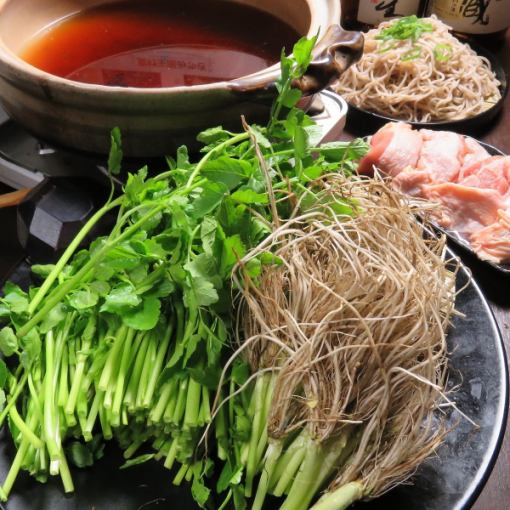 By using a coupon3000 yen
Tax not included
All-you-can-drink available

※ We are one glass replacement glass system per person.※ Draft beer · authentic shochu · premium whiskey etc. can be added to all you can drink at + 500 yen.※ Sake brewing menu is available for +800 yen and can be added to all you can drink.
Reservation deadline

Until 23 o'clock on the desired shopping day
Available days for reservation

Monday - Sunday - Public holidays - Holidays
The season where Seri delicious this year has been done ♪ Speaking of Sendai's winter "Seliba" The soup of chicken worked, the soup of playing has become finished in a delicious soup without mistakes making it a habit, with heart and Heat the body.In addition, Seri has detoxification effect, it is said to be good for health.召 is a buckwheat ♪ We are trial and error made to be able to taste only here.Please try by all means ☆
Course menu
【Sendai specialty shakisaki seri hotpot course】
The season of the seri saucepan has been done this year ☆ ☆
The served saucepan with plenty of fresh Sendai specialties served
There is no doubt that it will be habitual with its own soup stocking playing ♪
Please deeply enjoy the deep-seated soba with outstanding compatibility.
- - - - - - - - - - - - - - - - - - - - - - - - - - - - - - - - - - - - - - - - - - - -
【First come, first served as of today】
【Salad】 Yakitori salad
【Baked goods】 Jinhua Shime Mackerel and 2 taro
【Lifts】 Homemade sweet fried chicken fried
【Nabe】 Sendai specialty Seri pot
【Premium】 Dead buckwheat
【Sweet taste】 Japanese parfait
* Depending on the purchase situation, some changes may be made in the course contents.Please note.
※ This course is a 90-minute all-you-can-drink system.
※ Please contact us by the day before to change the number of people.In case of cancellation of the day we will charge a cancellation fee.
※ All you can drink beer, local sake, authentic shochu is +500 yen.
- - - - - - - - - - - - - - - - - - - - - - - - - - - - - - - - - - - - - - - - - - - - -
All-you-can-drink menu
·beer
· Barley barrel filling / Shandigafu / black eye / red eye / calpis beer / cassisvia
·Highball
· Angle High Ball / Ginger High Ball / Cork High Ball / Mega High Ball / Angle Lock / Round Water Split / Hot Water Ball / Beam High Ball / Beam Ginger High Ball / Gin Beam Rock / Gym Beam Water Rib /
·wine
· Glass wine red / glass wine white / American lemonade / wine cooler / kitty / miffy / splitzer / carimocho
·sangria
· Sangria Rock / Sangria Sparkling / Grapefruit Sangria / Orange Sangria / Tomato Sangria
· Makgeoli
· Soul Makgeoly / Gurefulumakkori / Makgeolitonic / Cassis Makgeolis
· Chuhai · Sour
· [Chuhai] Lemon high / Lime high / Orange high / Grapefruit high / Oolong hi / Green tea high / Calpis high [sour] Lemon sour / lime sour / orange sour / grapefruit sour / calp sour / man plum sour
A brunette
· Cider Sour / Ice Tea Sour / White Sour
·Plum wine
· Plum wine rock / plum wine rice / plum wine soda / plum wine oolong split / plum wine green tea split / plum wine ginger split / black plum wine / red plum wine
· Shochu
· Nanko (potato) / Wanko (wheat)
·Fruit wine
· Tsugaru apple sake / White peach liquor / litchi liquor / giant peak sake / mango sake / yuzu sauce with honey / acerola & rose hip sake / squikarser sake / apricot sake
·Mojito
· Mojito / Ginger Mojito / Big Peak Mojito / Peach Mojito / Yuzu Mojito
·Cocktail
· Cassis orange / cassised grapefruit / cassised soda / cassis oolong / cassis milk / cassis coke / fuzzy navel / reggae punch / peach grapefruit / peach milk [lychee] litchi orange / lychee grapefruit / lychee milk / lychee tonic / china blue / lychee etc etc .
· Spirits cocktail
· Gin tonic / Jinbac / Jin Ricky / Orange Blossom / Tom Collins / Jin Lime / Moscow / Vodka back / Vodka Tonic / Screwdriver / Bloody Mary / Bulldog / Tequila Tonic / Tequila Back / Mexicoque / Tequila Sunrise etc etc etc ...
·Non-alcoholic
· [Beer] Suntory All Free [Cocktail] Shirley Temple / Saratoga Cooler / Cinderella
·Soft drink
· Orange juice / Grapefruit juice / Tomato juice / Coca · Cola / Ginger ale / Green tea / Oolong tea / Calpis / milk
Coupons that can be used with this course
2019/01/17 update