Course details
【Secondary Course】 More than 150 kinds of drinks can be reserved with more than 15 people ◎ 【2000 yen including tax】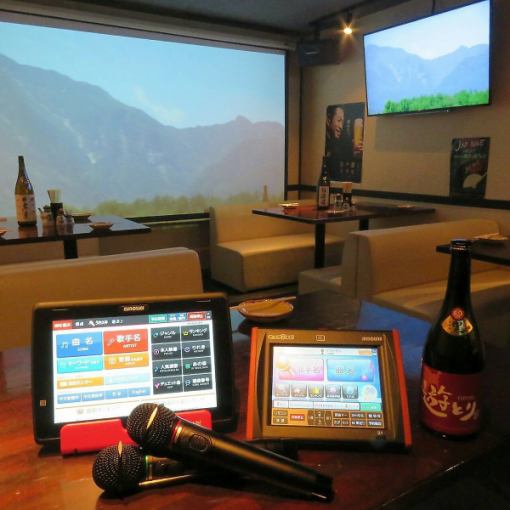 By using a coupon2000 yen
All-you-can-drink available

All 150 kinds 120 drinks with all you can drink 12 kinds of local sake at Miyagi · authentic shochu · premium high ball with
Reservation deadline

Until 2 o'clock the next day of the desired store visit
Available days for reservation

Tuesday, Sunday, Public Holiday, Holidays
"Karaoke complete" "100 inch monitor equipped" 100% fun with private charter ♪ It is possible to rent for over 15 people ◎ 150 kinds of drinks can be enjoyed at 2000 yen ♪ Make no mistake in the second party ☆ Wedding second party, farewell You can use it in a variety of seasons.
Course menu
Please inquire the contents of the snack.
※ The content of snacks may change due to purchase situation etc.※ This course is a 120-minute all-you-can-drink system.※ Please contact us by the day before to change the number of people.In case of cancellation of the day we will charge a cancellation fee.※ You can also drink sake and shochu as much as you want + 500 yen.
【Weekdays only】
You can extend the drink unlimited time to 180 minutes at + 500 yen course price.※ It is normally all you can drink for 120 minutes.→ Power up the rental banquet further!
☆ Amenity abundant ☆
100 inch monitor equipped 【Bingo tournament and quiz game possible at banquet】
Complete Karaoke 【Do not you make a noise as you sing and drink?】
I have Wi-Fi.
Charger available for rent
※ If you have any requests, please do not hesitate to contact us.
All-you-can-drink menu
·beer
· Barley barrel filling / Shandyagh / red eye / black eye / calpis beer / cassisvia
· Whiskey & Highball
· Angle High Ball / Ginger High Ball / Cork High Bite / Mega Hight Ball / Angle Lock / Round Water Split / Hot Water Sprinkle / Beam High Ball / Beam Ginger High Ball / Beam Cork High Ball / Gin Beam Rock / Gin Beam Water
·wine
· Glass Wine (Red · White) / American Lemonade / Wine Cooler / Kitty - / Miffy / Splitzer / Carimocho / Sangria Rock / Sangria Sparkling / Grapefruit Sangria / Orange Sangria / Tomato Sangria
· Makgeoli
· Soul Makgeoly / Gurefulumakkori / Makgeolitonic / Cassis Makgeolis
· Shochu High · Sour
· Lemon High / Lime High / Orange High / Greiflu Hye / Oolong Hi / Green Tea High / Calpis High / Lemon Sour / Lime Sour / Orange Sour / Greiful Sour / Calpis Sour / Male Plum Sour /
· Low alcohol sour
· Wishy iced tea sour / looty cider sour / loosy white sour
·Plum wine
· Plum wine rock / plum wine rice / plum wine soda / plum wine oolong split / plum wine green tea split / plum wine ginger split / black plum wine / red plum wine
· Shochu
· 【Potato】 Nanko / 【Wheat】 Wanko
·Fruit wine
· Tsugaru apple sake / White peach liquor / litchi liquor / giant peak sake / mango sake / yuzu sauce with honey / acerola & rose hip sake / squikarser sake / apricot sake
·Mojito
· Mojito / Ginger Mojito / Big Peak Mojito / Peach Mojito / Yuzu Mojito
·Cocktail
Cassis Orange / Cassis Gureful / Cassis Soda / Cassis Oolong / Cassis Milk / Cassis Coke / Fazy Necklist / Reggae Punch / Peach Fizz / Peach Greffle / Peach Milk / Lychee Orange / Lychee Gref / Lychee Milk / Lychee Tonic / China Blue / Lychee's / Kalua Milk / Kalua Matcha Milk / Campari Rock etc.
· Split cocktail
· Gin Tonic / Jimbac / Jin Ricky / Orange Blossom / Tom Collins / Jin Lime / Moscow / Vodka Back / Vodka Tonic / Screwdriver / Bloody - Mary / Bulldog / Tequila Tonic / Tequila Back / Mexicoque / Tequila Sunrise / Lambtonic / Lamb Back / Cuba River / Solkburno etc.
·Non-alcoholic
· All Free / Orange Juice / Greiflu Juice / Tomato Juice / Coca · Cola / Ginger Ale / Green Tea / Oolong Tea / Calpis / Milk / Shirley Temple / Saratoga Cooler / Cinderella
Coupons that can be used with this course
2019/01/17 update